Game Ball To Sabby!
October 10th, 2010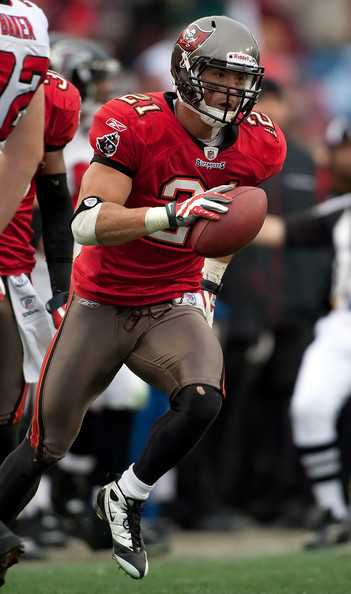 OK, who around here has been difficult, sometimes viscious on Sabby?
Joe stands up and raises his hand.
There was — and is — little question who the worst defender on the Bucs is. Sabby.
But just as Joe is sometimes over the top with criticism of the Bucs reserve strong safety, Joe has to give the guy mad props when it's due.
Today, it is more than just due.
Sabby played positively goatish for much of the game, starting off in fine fashion when he didn't make it on the field in time to replace injured Sean Jones and the Bucs had to burn a timeout before the first play from scrimmage of the ballgame!
Then, Sabby's tackling was more difficult to watch than Rosie O'Donnell in an adult film. Cedric Benson literally dragged Sabby downfield as if Sabby was a puppy nipping at his shoes.
Then Sabby gets schooled on a Carson Palmer touchdown pass.
Joe was so outraged, nearly blinded with rage, he was ready to even curse out Joe's beloved fantasy, Rachel Watson.
Just when it appeared the Bucs were about to lose — boom! — here comes Sabby. He played ballhawk, got a tipped pass from Aqib Talib and returned the pick 31 yards to set up the Bucs winning score.
It was impressive. Impressive. Clearly the play of the game and clearly Sabby's best play as an NFL player.
Yes, Joe's very, very critical of Sabby, and Joe thinks it's all warranted.
But when Sabby makes a play, Joe has to give credit where credit is due.
Sabby, you get Joe's game ball today. Joe stands and raises his bottle of beer in your honor.
Well done. Salute!