Freeman Goes To 8-8
October 31st, 2010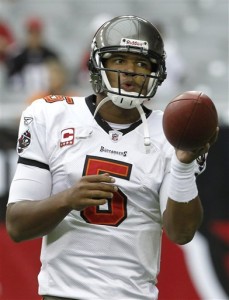 Joe's not going to suggest every Bucs fan should track down Mark Dominik and Raheem Morris and kiss their feet for drafting Josh Freeman, but perhaps they should?
To think that Freeman would be 8-8 over his first 16 starts playing with plenty of inexperienced receivers and behind his share of second-string linemen is astounding.
The guy is money. The Bucs are 5-2 and he's thrown only three interceptions. Yes, Joe already has a Freeman jersey.
Sure, Freeman took a foolish fourth-quarter sack for a 12-yard loss that could have cost the Bucs today's thrilling 38-35 win in Arizona, but Joe is quite certain Freeman won't pull such a bonehead move again. And that's the thing with Freeman, the kid has learned and grown at such a fast pace that the maturation is evident nearly every week.
What's he going to look like if LeGarrette Blount proves to be the real deal?
Teams, except in rare situations, don't win without a good quarterback. And teams don't lose much when they have a QB like Freeman.