Dominik Not Down On Running Game
October 5th, 2010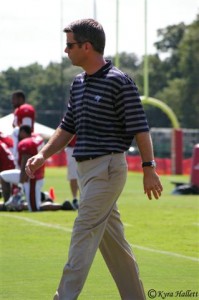 Over at CBSSports.com, the Bucs are being covered by local reporter Scott Purks, a man Joe has had a few chilled beverages with over the years.
Apparently, Purks chatted with Mark Dominik today and the Bucs general manager defended the Bucs' rushing attack, which is not very good.
It's too early to say the running game (ranked 20th overall) is below average, general manager Mark Dominik said. "It's only been three games, and in the Pittsburgh game (a 38-13 loss), we got behind early, which hampered our running," Dominik said.
Joe appreciates the optimism of the GM, but the Bucs' running game has been ugly outside of the hope rookie LeGarrette Blount injected against the Steelers last week with his six carries.
Earnest Graham fumbled on the goal line on opening day. Cadillac Williams' numbers are atrocious (2.5 yards per carry). And the Bucs, as Purks notes, are ranked 20th in the league in rushing. Take away Josh Freeman's deft scrambles and there's not much there.
Cincinnati's run defense is ranked No. 15 after games against Baltimore, Carolina, New England and Cleveland, not exactly a shabby bunch of rushing attacks.
The Bengals will be an excellent test for the Bucs' offensive line and what looks like a three-headed attack of Cadillac, Blount and a now healthy Kareem Huggins on Sunday.
Joe suspects Freeman and the defense will be who wins this game for the Bucs — if they win.