Bryan Glazer, Dominik Welcome Blogger
October 5th, 2010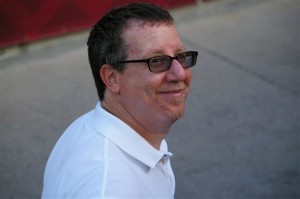 The funny, foul-mouthed guy who runs Bucstats.com has written an entertaining account of his invitation-only visit to One Buc Place.
"Scott," the longtime guru of Bucstats.com, documents being invited by the Buccaneers media relations department for a summer bonding session with Bucs bloggers and team officials. And he details his subsequent visit, which included one-on-one time with Mark Dominik and Bryan Glazer.
Joe has verified with the Bucs that the account is legitimate.
Here's a small snippet: Joe suggests you read the whole thing (parental guidance is strongly advised).
After a few minutes of watching practice, Bryan Glazer walked out and Dominik went over to greet him and they chatted for a while. Then Glazer came over and introduced himself to me. "Yeah, the Bucstats guy," was what he said. The owner of the Buccaneers knows who I am.

I'd like to stop for a moment to remind myself about the countless hooker jokes and all the times I confessed that I cannot adequately satisfy a woman and all my semi-gay mancrushes. Bryan Glazer probably read all those.

Glazer asked how I liked the tour so far and we talked about the direction the Bucs were going in, the youth movement and, again, the media's treatment of the team. One thing that seemed to bother Glazer is the perception of his brothers and him as hands-off owners. He has only missed one home and one away game since they bought the team in 1995 despite the reporting from the local media that they are just check writers. And he desperately wants to win. He knew the 3-13 season was coming and he's committed to sticking to the plan, but I could tell the losing season wasn't any fun for him. I'm convinced that this isn't just an expensive hobby for the Glazers that they could discard if they got bored with it. I'm sure Manchester United is important to them, too, but Glazer was there with a briefcase and obviously working on the Buccaneers, not just basking in the glow of owning a major sports franchise. If they had wanted to sell it, I'm sure they could have done it by now.
Joe finds it interesting that the Bucs have reached out to bloggers this season. It's a wise move, considering the readers of these websites are their core audience, the hardcore fans that buy the tickets, purchase the gear, and spew their passionate opinions and shape public opinion of the team.
As for the Bucs reaching out to Joe for this blogger camping trip, well, Joe's going to withhold all comment.
Joe will say he's had a sometimes ugly, sometimes pretty relationship with the Bucs for the past 2+ years, much like any other media outlet.