Wrong About Mike Williams
September 13th, 2010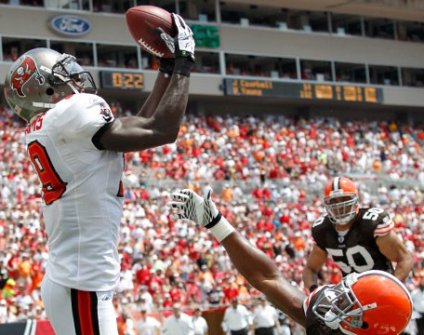 Joe has made no secret about how much he respects and enjoys reading Peter King of Sports Illustrated. Ugly Monday mornings are slightly tolerable thanks to his weekly Monday Morning Quarterback columns.
Not all Bucs fans agree and not even Joe agrees with everything King writes. So Joe understands how Bucs fans erupted at King when the long-time NFL reporter predicted the Bucs would win a grand total of two games this year.
Already, the coffee-slurping King is issuing a mea culpa, largely because of the play of Bucs wide receiver Mike Williams yesterday.
I think I was wrong about a lot of things in my predictions, as usual, and one of those might have been picking Tampa Bay to win two games. I like what I saw out of Mike Williams Sunday. The fourth-round rookie from Syracuse is an athletic, physical receiver who looks to have tremendous confidence in himself.
Joe wrote this yesterday but it bears repeating: Williams circus catch for a touchdown was the best catch by a Bucs receiver since Joe Jurevicius made a volleyball catch against Philadelphia when the Bucs opened the NFL season on Monday Night Football as defending Super Bowl champions.
Meanwhile, here's a cool video on what makes King's Monday Morning Quarterback so popular.