Would You Gamble With Peter King?
September 17th, 2010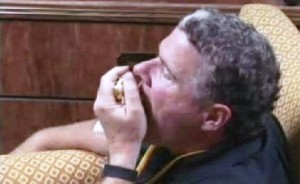 Now one of the Joe's is not much of a gambler, the second Joe enjoys a wager now and then.
Even the non-gambling Joe would jump at any NFL game, no matter the combatants, if Joe was getting 20 points.
That's the kind of spread Sports Illustrated columnist Peter King is giving to the Carolina Panthers. In his weekly picks, coffee-slurping, popcorn-shoveling King believes the Panthers will beat the Bucs this week by nearly three touchdowns.
I'd make the argument that, with Cincinnati and New Orleans on the schedule in the next two weeks, no 0-1 team with the playoff prayer has a bigger game on the docket this weekend than Carolina. Because if you can't beat Tampa Bay at home, you know you're going absolutely nowhere this year.
King believes Carolina wins 33-13. Maybe King is still bitter at the Bucs for serving salty oatmeal?
Now before people start piling on, please note that there is a difference between a handicapper and a writer. A brilliant writer could be the worst sucker at a casino and the greatest gambler sometimes couldn't put three coherent words together.
Never confuse the two.
Still, Joe hopes to wager with King — at anything — the next time he crosses paths with the Red Sox lover.
And yes, Joe admires King, likes King, and King has been more than kind to Joe in the past.
Update 10:39 a.m.: King has more gambling advice today. He has his beloved Ohio Bobcats beating The Ohio State by a field goal.