Aqib Talib Thought He Was In The Clear
September 16th, 2010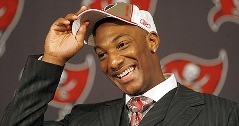 Joe thought it was a curious quote coming from Bucs cornerback Aqib Talib earlier this week when he said he jumped off the couch while he watched his replacement, E.J. Biggers, play so well, during the Bucs' blacked out game against Cleveland.
Indeed Talib was watching the (blacked out) Bucs on TV from a couch. The couch just happened to be in his luxury box at the CITS. Per St. Petersburg Times' Bucs beat writer Rick Stroud's Twittering, this is an NFL violation.
Talib was sitting out the season-opener, per his one-game suspension for his cabbie-slugging incident last summer, and was in his own luxury box at the CITS Sunday, paid for out of his own pocket.
It is not unusual at all for players to have luxury boxes. It's a safe haven to bring family and friends from out of town to watch them play, and visit with for the weekend.
Doing a bit of research, Joe learned Talib was under the impression it was all good to be in his luxury box.
Per NFL rules, Talib is not allowed to participate in any team activities for the week he is suspended; which he abided by. He was not in the locker room, did not attend any team functions.
Joe has learned Talib had no idea he was not allowed to be in the same stadium as the Bucs, as a paying customer among the 47,211 others attending the game, a win over Cleveland.
What next, a Bucs player, if suspended, should serve time in an Orient Road jail cell during a Bucs game, per the NFL? Sheesh.
Talk about a technicality.