Thank You, Steve White
September 14th, 2010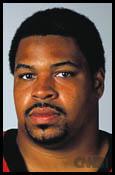 For the past 11 months or so, Joe's been proud to bring you former Bucs defensive end Steve White's weekly Bull Rush column, which was filled with fascinating Xs and Os. Joe learned a helluva lot, as did most readers.
So it saddens Joe to let you know that Mr. White officially is moving on from JoeBucsFan.com.
No, this change is not the result of bad blood by any means. Steve just plans to focus his great Bucs analysis on his own blog, and consider some new opportunities. So Bucs fans aren't going to lose out.
Joe can't thank Steve enough.