Stylez G. White Begging Bucs Fans For Love
September 20th, 2010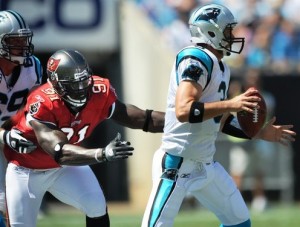 There have been countless stories written, words spoken, beers swilled over the Bucs not selling tickets.
Sure, it's hard to afford tickets if you don't have a job, or your house is underwater worse than the reefs off Pinellas County.
Now that the Bucs have their best start since their NFC South title season of 2005, Stylez G. White is hoping Bucs fans can somehow scrape together a few bucks and support the team when the Bucs host the Steelers. White Twittered this from Carolina after the Bucs' second win of the season Sunday.
Want to say thanks to the fans! I will see y'all nxt week for the steelers game! Y'all better be there we gonna need u!
The game is expected to be sold out. Will be interesting to see, after the Bucs have surprised everyone this side of Pat Yasinskas, what the ratio of Bucs to Steelers fans will be.