Spurlock Wants More Home Games On TV
September 14th, 2010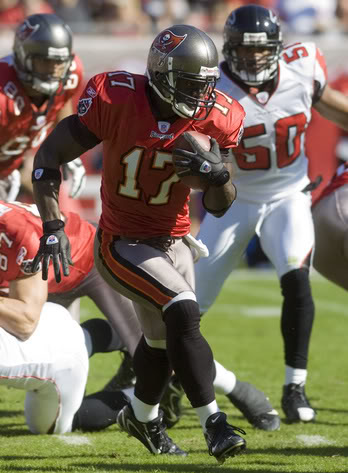 Frustrated Bucs fans who were upset the Bucs were not on TV this past Sunday — that is those who didn't take advantage of The Blackout Tour — have a kindred spirit in Micheal Spurlock.
It seems "run Micheal run" and others on the Bucs are determined to get home games on TV, and not with the help of Steelers fans. They have silently taken the blackouts as a personal affront, that people believe rebuilding means losing, and their goal is to treat Bucs fans to more games on TV, so writes Tom Balog of the Sarasota Herald-Tribune.
"We kind of got a thing of our own, ' The Bottom to the Top,' " Spurlock said. "Everybody thinks we're at the bottom of this league, 'yeah, it's going to take them three or four years to really rebuild.'

"Everybody (on the team) is kind of holding that on their shoulder, (we) kind of keep saying to ourselves, so when we go out there, we have to show people," Spurlock said. "We have to help fill these stands and you know, get Bucs fans back into the stadium. We want TV games and we are going to be the reason that we help get that back."
That's great that the Bucs have this kind of mentality, this kind of drive, this kind of fire. It warms Joe's heart to read that.
But, of course, talk is cheap. If the Bucs are able to win at Carolina and somehow upend the Steelers a week from Sunday, Joe suspects ticket sales will be on the rise.