Josh Freeman Needs To Help Himself
September 14th, 2010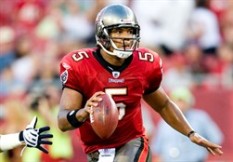 Much has been made about Josh Freeman's bum thumb. Some are trying to make too much into his fender bender Friday, Joe believes.
If that isn't enough, Freeman got bounced around a bit in the Bucs come-from-behind win against Cleveland Sunday. A lot of Bucs fans, who somehow believe the Bucs have Barry Sanders, Gayle Sayers and Larry Czonka in the backfield, are quick to point fingers at the offensive line for not keeping Freeman's jersey clean.
Not so fast, says Bucs offensive coordinator Greg Olson. Speaking to Woody Cummings of the Tampa Tribune, Olson suggests Freeman may have to look in the mirror a little on some of the plays he got punished.
Olson blamed Freeman for the three sacks, saying he failed to get rid of the ball in time on a couple of occasions and failed to hit a hot read on a blitz on another, and said he was mostly pleased with the play of the line.
There's an old saying in football for quarterbacks: "Live to throw another play." Not only can an incompletion save yards, it will save a quarterback's body, too.