Raheem OK With Stunting McCoy At Undertackle
September 29th, 2010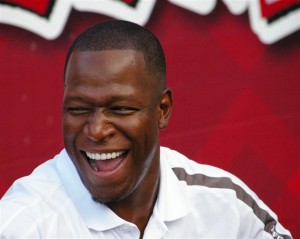 Essentially, Raheem Morris said at his news conference today that Gerald McCoy can not only handle bouncing around the defensive line during games, he has to do it for the best interest of the defense.
It's necessary, even if it slows McCoy's development at undertackle, Raheem explained following a question about the subject.
"If I was thinking selfishly for McCoy, I probably would say, 'Yes.' But thinking selfishly for at defensive standpoint, that makes us better," Morris said. "Our defense needs him to move around to be productive, and be smart, and be sharp, and be wise beyond his years so to speak. And he has been. …During the season, you've got to do what's best for the football team."
Joe's glad to hear Raheem concerned about winning over everything else. No surprise. After all, he is from Chucky's win-now coaching tree, and Raheem's got to know that he'll very much be judged on how many Ws he chalks up this season.
It's also good to see the MSM is doing its daily reading of JoeBucsFan.com and/or former Buccaneer defensive end Steve White's blog. Here's a post about White's concern with McCoy's development posted yesterday here.