Raheem Abandoned His Core Beliefs
September 13th, 2010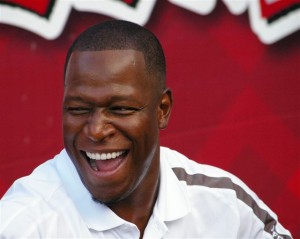 Every hardcore Bucs fan has heard Raheem Morris deliver his one-liner philosophies.
Be your best self.
Be true to your core beliefs.
Be violent.
Establishing men is about taking off your underwear and putting your face on people.
So Joe's wondering who replaced Morris with a sissy when the Bucs had the ball with 39 seconds left, a 4th-and-1 situation on the Browns 5 yard line leading 17-14?
After a timeout, the Bucs came out and showed they have no identity and no confidence in their goal line offense. Josh Freeman dropped back to pass, looked to his right, didn't like his chances and took a six-yard sack.
Where were the core beliefs? Where was all of Raheem's desire to be like the Giants, Steelers and all the other violent teams he loves?
The Bucs have a veteran offensive line and veteran running backs. They brought in Keydrick Vincent to move a pile. Heck, they even have a giant of a quarterback who could hammer into the line for a yard. 
Instead of taking their underwear off, Greg Olson and Raheem decided to put a skirt on.
A team better than the Browns could have made them pay dearly.