Stylez Brings Smiles To Raheem
September 13th, 2010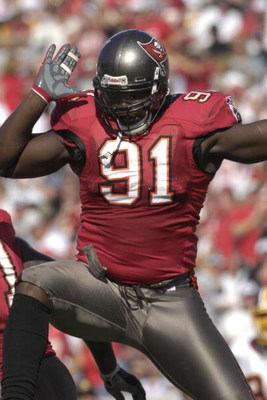 Speaking at his news conference moments ago, the Bucs' head coach talked more about how pleased he was with Gerald McCoy and the Bucs' pass rush.
Asked about the Bucs' pass rush needing to get more pressure off the edge, Raheem Morris was almost taken back. Like he wanted to say, "MORE PRESSURE?" in his best Jim Mora, Sr. impression.
The head coach praised Quincy Black, Tim Crowder and called out Stylez White for having one of his best games as a Buccaneer.
"White's production on the day was awesome," Morris said. "One of his better games since he's been here. …Those guys forced some bad situations."
Joe will let former Bucs defensive end Steve White give his assessment of the D-line in his popular, unrivaled Bull Rush column, which should be on these here pages today or tomorrow.
Joe thought Crowder and Stylez created lots of havoc, even if they didn't rack up sack numbers. While Joe was surprised to see Michael Bennett inactive, the Bucs didn't miss him.