Game On! Joe's Pick'em League Is Back
September 1st, 2010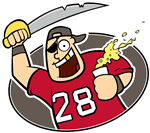 UPDATE: 11:00 p.m. Joe filled up in just under an hour. If you e-mailed in to enter, you'll get confirmation tomorrow, and then login instructions on Saturday via e-mail.
For those who missed out, Joe might open a few spots after seeing whether anyone backs out, etc. And Joe's saving a few spots for those who beat Joe last year. (Joe wants another crack at you.)
You'll have to check back to JoeBucsFan.com for details.