From Worst To First
September 2nd, 2010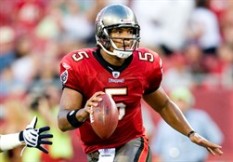 The Bucs once did it under Rich McKay: going from worst to first.
Can that feat be replicated this season? Find out in this Yahoo! Sports video featuring the lovely Charissa Thompson, she of the Big Ten Network and Fox Sports, Maoist Michael Silver and Bucs fans' favorite Jason Cole.
Seems as though Cole has an interesting take on the Bucs. Let's just say it surprised Joe.