"Jon Sort Of Lost A Part Of The Team"
September 2nd, 2010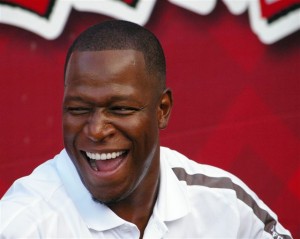 Just a couple of days after praising "Coach Gru" for his extraordinary innovations on both sides of the ball, Raheem Morris now explains that the heinous Jim Bates experiment was very much about him not repeating the leadership failures of Chucky.
Now that's a great way to get kicked off the coaching tree.
As told to Roy Cummings of The Tampa Tribune, Morris says Chucky was too disconnected from the defense and Morris initially preferred a more unifying role as a head coach not bogged down by coordinator duties.
"Jon had an offensive coordinator but he pretty much did everything himself, and what I noticed was that Jon sort of lost a part of the team on the defensive side of the ball that way and I didn't want that. I wanted to make sure I had the whole team's attention right from the start here. I wanted my team to hear one voice that they knew controlled everything we do as a football team."
Joe thinks it's great that the Bucs' defensive mastermind/head coach has it all straightened out now. He's figured out that he can lead a team to success as a coordinator and a head coach. Just like the guy he threw under the bus.