Devoted Clayton Fighting To The Finish
September 2nd, 2010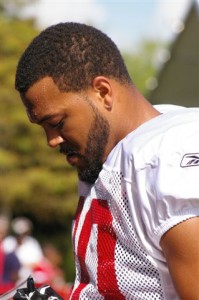 In a story that is clearly not agent-driven speculation, Rick Stroud, of the St. Pete Times, writes today about how Michael Clayton has worked extraordinarily hard since last season and can't bear to think about getting ousted from the Buccaneers.
Joe recommends you read the whole piece.
Stroud says Clayton's $3.5 million salary for 2010 is guaranteed. And he offered an interesting quote from the Bucs' head coach that might give Clayton real hope of making the roster.
 "The (defensive backs) used to own the extra slots. But I've got some receivers on this team that are tough, that can tackle. I've got some receivers on this team that don't mind blocking, that don't mind mixing it up. They're starting to show their skill level and development."[Morris said.]
Well, now. If the head coach is getting excited about keep more roster spots for receivers who can deliver punishing, iconic blocks and don't mind mixing it up, then perhaps he's referencing Clayton.
Now Joe knows "money will never be in issue" in building the Bucs, so said Joel Glazer.
But, per Stroud's calculations, it is less costly to keep Clayton and his guaranteed salary than to cut him and pay someone else. Perhaps money will factor in just this once, or twice if you count TJ Rives' recent comments.