Clifton "Peanut" Smith Now Just A Memory
September 5th, 2010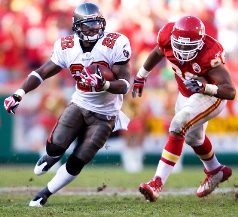 It wasn't a real surprise that Clifton "Peanut" Smith was cut loose by the Bucs today when the pewter pirates signed a couple of unheralded players off the waiver wire, one being a running back.
Smith, though a former Pro Bowl returner, was on thin ice due to his illness and his habit of putting the ball on the ground.
Courageously, Smith galloped with gout this preseason, but it was his past that caught up with him (fumbles).
With the return of (run) Michael (run) Spurlock, the return ability of Sammie Stroughter and the emergence of Preston Parker, Smith was expendable.
Had Smith been able to take care of the ball better, he may have had a lot more touches as a running back, and thus secured a job. That didn't happen and now Smith is looking for work.
Joe hopes Peanut finds a new job. He's a good guy and a talented guy. He just needs to find a way, some way, to hold onto the ball.