Attacking "35" Part Of Steelers' Game Plan
September 27th, 2010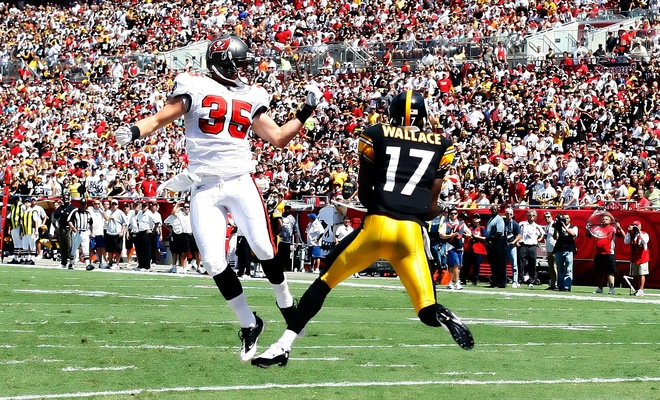 Oatmeal connoisseur Peter King, of Sports Illustrated and NBC Sports, had a chat with superstar-for-a-day Charlie Batch following the Steelers bashing of the Bucs yesterday, and King shared some of their talk in his popular Monday Morning Quarterback column.
The Pittsburgh quarterback revealed that rookie Cody Grimm starting at free safety had the Steelers salivating before kickoff.
"Honestly, I didn't think I'd ever get a chance for another start here," Batch told me from Tampa. "But what was great today was we had everything in the game plan, and we were going to take our shots downfield early. We were just trying to open it up, because we weren't playing us, honestly. And before the game, Mike [Wallace] said to me, 'Give me an opportunity, Chuck. Throw it up there for me.' We decided that if 35 [Grimm] ever turned his back to me, I was putting it up there."

That's exactly what happened on one of the TD bombs to Wallace. Batch put it up for Wallace, and Grimm lost the ball, and Wallace won it in the end zone. Just like the Steelers drew it up.
Of course, it's no surprise the Steelers wanted to pick on Grimm and saw the Bucs secondary as a weakness with the absense of Tanard Jackson.
In Raheem Morris' postgame news conference, he clarified that he has no plans to rotate safeties like he did in 2009. And he was reserving judgement on Grimm's overall play until after reviewing tape.
Regardless of Grimm's grades, Joe suspects a Sabby sighting on defense is about as likely as a Rachel Watson sighting in Joe's hot tub.