No Air Tossing Allowed For Freeman
August 26th, 2010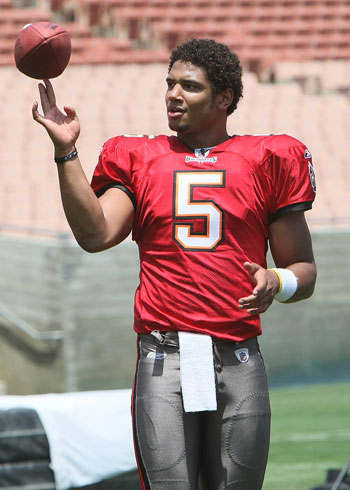 As Bucs fans wait patiently to hear word of injured Josh Freeman gripping a football successfully and throwing it like an NFL quarterback, the Bucs' brass is afraid Freeman might do something dangerous to his precious thumb.
The Bucs' defensive mastermind/head coach won't even allow Freeman to stand on the practice field, so reports Stephen Holder, of the St. Pete Times.
"Free is a very conscientious young man," Morris said. "He wants to come out to practice and I kick him out because I know he can't be on the practice field without picking up a football and throwing it. Kellen (Winslow) might talk him into going over and running routes against air with a broken thumb. And I don't want that.

"You want those types of guys in your building. But at the same time, as the guy in charge, and the guy whose got to be responsible for these guys . . . you have to protect themselves a little bit. So, to protect them from themselves, you keep them occupied with other things."
Joe finds it a bit odd that Freeman isn't on the practice field sidelines with his teammates. Shouldn't that be where a leader stands? And couldn't he make some important observations there, in addition to watching practice film?
Joe gets being protective, but this seems just a little bit much.