Less May Be More With Bucs Training Camp
July 1st, 2010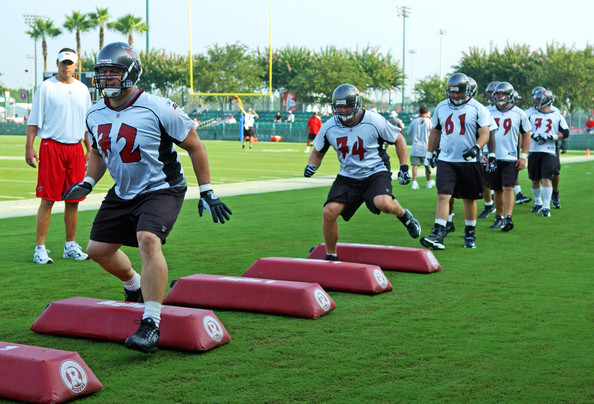 Now Joe likely had the same reaction as most Bucs fans when he read that the Bucs will only — tentatively — hold seven practices open to the public during training camp which gets underway later this month (hard to believe it's July).
But once Joe started peeling back the onion skins, he noticed there are actually some good things about the seven public practices.
Last year, Joe remembers going to a steamy Saturday morning practice. The stands, naturally, were full of thousands of fans. Problem was the Bucs were practicing special teams. The drills mostly consisted of a punter catching a ball from some mechanical apparatus, then punting the ball to a return man who never returned the ball. He just caught it.
Who the hell wants to watch a punter?
These drills took place at the far southeastern corner of One Buc Palace, far away from the vast majority of fans. Most of those same fans were begging, pleading for something, anything, to happen near them.
They left wanting.
That will not happen this year.
All of the practices open to the public will be full pads. This did not happen last year; it was pretty much luck of the draw. Also, all of the same practices will be held at Field No. 3, which is closest to the stands along the west sidelines.
So fans will be assured to see some hitting. In short, there may be scrimmages as well. That's what fans want to see.
Still, with seven practices at One Buc Palace, Bucs fans have it better than most NFL fans.
Joe recently read about the Kansas City Chiefs and the city of St. Joseph, Mo. touting how Missouri Western State College is opening a new practice facility this summer for the Chiefs new local training camp site, after the team trained in Wisconsin for 14 years.
St. Joseph is a far northern suburb of Kansas City. If one pushes it, a fan might be able to make it after a 40-minute interstate drive from Arrowhead Stadium (ignoring speed limits of course). This would be like the Bucs holding training camp in Bartow. (Joe knows: He once was a beat writer covering the Kansas City Royals).
Shoot, we all know how the south Tampa crowd cries as if they just learned they are to face an IRS audit the way they whine about driving 20 minutes to the Fruitdome in St. Petersburg.
The Bears and the Giants, for example, hold their training camps hours away from their home facility. The Cowboys train halfway across the country.
It also appears the Bucs will have sort of a second fanfest Aug. 7 with a Saturday night practice at the CITS. Last year, the Bucs held a similar practice, and it was pretty much a pep rally. This year there will even be fireworks for kids, and the kids at heart.
So, yeah, at first it was depressing that only seven practices — for now — will be open to the public. But it seems the practices will deliver fans more bang for their… Buc.