June Data Humbles Joe
July 1st, 2010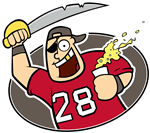 As Joe counts the exciting hours before the unveiling of a new JoeRaysFan.com merged with an established powerhouse of a Rays website, Joe is taking pause to thank his many readers.
Thank you!
June was another strong month for JoeBucsFan.com.
Traffic continues to be strong in the Bucs offseason, with more than 30,000 unique visitors (different IP addresses) coming here in June. And those good folks delivered many hundreds of thousands of actual visits and page views. Joe expects all those numbers to double later this year.
Also, Joe's new message board venture will be live in July. As for August, Joe's looking forward to that month in a big way. Right after the start of training camp, Joe will roll out a unique service for Bucs fans that will generate quite a bit of media coverage. Joe can't drop hints for fear the concept will be copied.
Again, Joe sends his thanks to all, with an extra special thank you to the advertisers you see here, Joe's partners at 620 WDAE-AM, Steve White, Jeff Carlson, intern Kyra Hallett, THE OPTIMIST, THE PESSIMIST, and Joe's many sources in and around One Buc Place.