Ward "Has Shown He's Just A Backup"
June 28th, 2010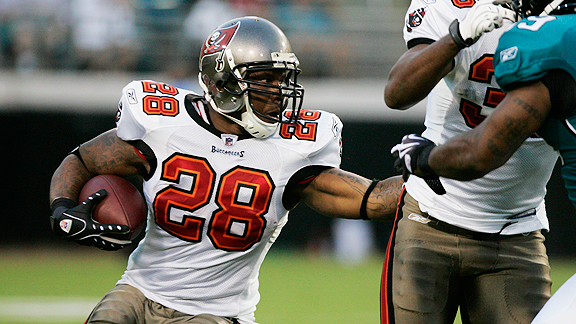 A couple of months ago Bucs offensive coordinator Greg Olson told the The Tampa Tribune that Derrick Ward would see more action this year, in part to help "get Cadillac through another year."
"Part of the reason Derrick was signed was our concerns about Cadillac Williams coming back from two devastating knee injuries. I didn't think he'd play last year, but Caddy played well for us. We will play Derrick more this season so we can get Cadillac through another year. We're going to utilize all of them, but there's no doubt spreading the football among three backs is difficult," [Olson said].
At the time, that statement simply seemed like Olson acknowledging the obvious: that Cadillac is damaged goods and the Bucs want to get much more out of Ward. Remember, the Bucs are paying Ward a lot more cash than Cadillac.
Now, Pat "Vacation Man" Yasinskas, of BSPN, reports that Cadillac is completely healthy and the No. 1 running back.
… It's not hard to imagine Williams turning in a bigger year in 2010. He's completely healthy now and he's the unquestioned starter at running back. The Bucs have shifted Earnest Graham over to fullback and Derrick Ward, who was signed last year with the dream of him becoming the feature back, has shown he's just a backup.
Joe's not so sure Vacation Man is accurate when it comes to the clarity of the Bucs running back situation. Cadillac's health is relative. He played well last year with his carries limited because of his two horrific knee injuries. But Joe would be stunned if the Bucs chose to rely on him to carry the load in 2010.
Ward may be "just a backup" in Vacation Man's world, but Joe suspects Ward will get every opportunity to lead the Bucs in carries and prove the front office's investment in him was a wise move.