Bucs Better Sweat If Donald Penn Doesn't Show
June 28th, 2010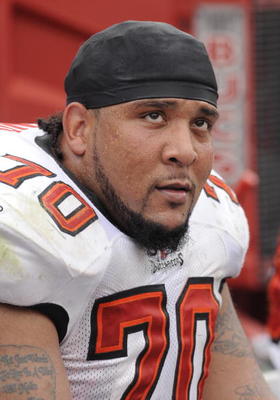 Like Anwar Richardson of the Tampa Tribune pointed out last week, fellow Bucs beat writer Stephen Holder of the St. Petersburg Times explains how the Bucs, thought by many to be cheap, would save money by meeting embattled left tackle Donald Penn's contract demands.
Holder is convinced Penn will not be in attendance when the Bucs hold their first training camp practice at One Buc Palace July 31.
That's when the Bucs better start sweating. They need to improve their fortunes after a 3-13 season. And after last offseason's many shakeups, they've seen first-hand what unexpected changes can do to a team (changing coordinators, quarterbacks, etc.), and they would be unwise to compound those mistakes.

For a team that is betting so heavily on quarterback Josh Freeman, it makes little sense to leave his blind side protected by a second-year project, Demar Dotson. And even if Penn were to ultimately cave, the question remains how much is gained and lost under such a scenario?

Ask yourself: How many blows is Freeman subjected to in the meantime as the club quickly gets into its preseason games? How much cohesion is lost among the members of the offensive line because one of their key components is missing? And what, exactly, is the long-term plan at left tackle, a position that has been unstable here for too many years? For all the talk about building for the long term, the decision not to sign Penn sure seems short-sighted.
For those that claim Joe is posting too many Penn articles, Joe suggests people point fingers at the parties involved in Penn's contract talks. To quote Holder, Penn's contract status "represents the biggest issue facing the Bucs."
Don't blame Joe!