Ruud Feels For Penn; Focuses On 2010
June 28th, 2010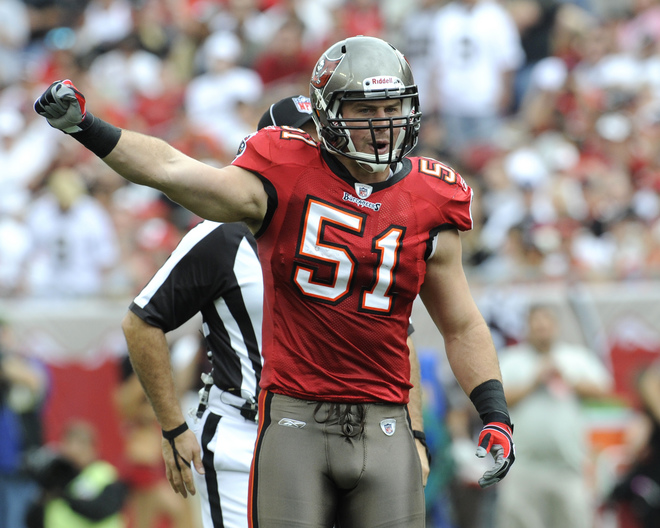 Much to the chagrin of JoeBucsFan.com commenter JimBuc, Bucs left tackle Donald Penn has yet to sign and the whole mess shows no end in sight.
One of the current Bucs fully understands what Penn is going through. Last year, Bucs linebacker Barrett Ruud, like Penn this year, tried to force the Bucs hand in order to get a new contract.
He's still waiting for one and, like Penn, this appears to be his last season wearing Pewter and Red unless a contract is reached.
With Penn sitting out, Ruud spoke last week with Tom Balog of the Sarasota Herald-Tribune and voiced his solidarity with his brother in pads.
Meanwhile, Ruud noted he cannot worry about what he cannot control.
Ruud, of course, also wants a long-term contract extension like the one Penn stayed away from offseason voluntary workouts and this week's mandatory mini-camp, in an attempt to get from the unyielding Buccaneers.

But unlike the hard-line offensive tackle, Ruud decided against holding out of offseason workouts or missing the mini-camp, to force the issue with team management.

"I've come to the point where it will (happen) or it won't," Ruud said. "For me, personally, the best thing to do was to be here and be with everybody else," Ruud said. "And go through OTA's and learn the defense. I thought that was the best situation. The best thing to do is have a great year. If you have a great year, something good is going to happen for you. That's kind of my focus right now."
With the Donald Penn mess first and foremost in Bucs fans minds as the team prepares for training camp in roughly a month, most have forgotten Ruud also is in the same boat as Penn.
How Penn plays this year, and more specifically, how the Bucs defense plays, may go a long way toward Ruud returning to the Bucs for the following season, whether that is in 2011 or 2012.