Bonding With Teammates Lured Winslow Back
June 15th, 2010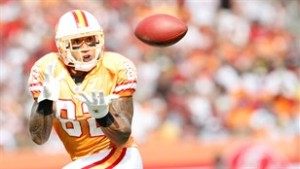 From the day he arrived in Tampa Bay, Bucs tight end Kellen Winslow has stated he wanted to be a team leader.
It's that drive and fondness for his teammates that drew him back — maybe too soon — from his sixth knee surgery to One Buc Palace Monday for OTAs, so reports Nick Williams of the Tampa Tribune.
"It feels good," Winslow said. "It's just something I deal with everyday. I'm not going to let these guys down though."

Winslow has had multiple surgeries on his right knee, which was injured in a motorcycle crash that forced him to miss the 2005 season with the Cleveland Browns. The most recent surgery was described by Bucs head coach Raheem Morris as minor, an arthroscopic procedure to clean up scar tissue.

"I'm feeling good," Winslow said. "I'll be ready for training camp. I'll be ready."
This is great to read, and Joe's happy that Winslow is trying to get to 100 percent by training camp, or as close as he can get. Reading between the lines, Winslow will never be 100 percent.
The sixth knee surgery is what frightens Joe. At the time of his acquisition, Joe thought Tony Gonzalez could have been had for a second round pick (he was) and may have a longer shelf life because of Winslow's gimpy right knee.
This is nothing against Winslow whatsoever. Joe wishes him the best, obviously. If pressed, Joe is sure Winslow would admit that his multiple knee surgeries are a concern to him for his long-term NFL playing career.