Bucs Running Game A Concern For Josh Freeman
June 15th, 2010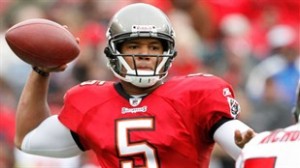 Joe has stated many times over recent weeks that he is of the belief that the Bucs have depth at running back.
In other words, the Bucs are deep in average running backs.
The numbers bear Joe out. The Bucs finished 25th last season in average yards per carry. Bucky Brooks, of NFL.com, suggests in a recent chat that unless one of the Bucs' three clone-like backs has a stellar season, the growth of Josh Freeman as a franchise quarterback will be delayed.
Martin, Glasgow, Scotland
Hey Bucky, I've been looking to get an answer to this. Do you think Williams and Ward provide enough of a run game to take pressure of Josh Freeman. Or do Tampa look to bring in LenDale White or maybe even Marshawn Lynch? Thanks

Bucky Brooks, NFL.com
Martin, The Bucs' running game has the potential to alleviate some of the pressure on Freeman, but one of the backs (Williams or Ward) must emerge as a legitimate threat in the backfield to create 8-man fronts. If they can get enough attention focused on the running game, Freeman should have favorable match ups in the passing game with Kellen Winslow II serving as the "go-to-guy". He flew under the radar last season, but he should become a big-time weapon for the Bucs this season. Also, I wouldn't expect the Bucs to pursue LenDale White. Though he has been a productive player in the past, I don't think that he offers much of an upgrade for them at this point.
No, hell no, LenDale White is not the answer. The last thing the Bucs need is another plodding, bruising running back. The Bucs need a spark in their offensive attack and that would come from someone with lightning speed, who can hit the hole in a blink of an eye.
Joe loves Cadillac Williams and Earnest Graham to death, but Joe doesn't hold out much hope either of these two will rush for 1,200 yards this season. The jury is still very much out on Kardashian-chasing Derrick Ward. Peanut Smith, when he's not getting concussed during an on-field assault, puts the ball on the ground too often.