Bucs Teammates Have Donald Penn's Back
May 19th, 2010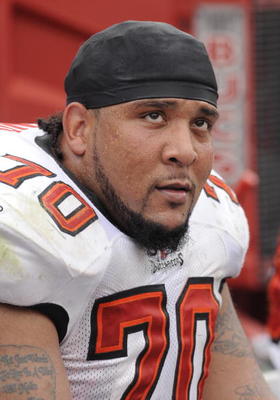 Missing from OTAs due to frustration with his contract, Donald Penn has been nowhere to be found this week at One Buc Palace.
Arguably the Bucs best player, Penn wants more money he feels someone of his talent deserves. Not an outrageous request.
Despite Penn's absence, it doesn't seem his teammates are irritated, so writes Joe's good friend, stylish Rick Brown, aka Backwards Hat, (Hey Rick, Joe and your fans pine for more video). Brown notes that Penn's brethren on the offensive side of the ball aren't holding any grudges with Penn not reporting for OTAs.
"Penn is a professional," said Joseph. "He is going to handle his business the way he has too. This is his job and I believe he will be here."

The Bucs can't even threaten to play hardball with Penn. If he doesn't sign his tender before June 15, the Bucs could reduce their offer to 10 percent higher than last year's base salary. That would still be around $3.07 million, which Penn would have until the day before the start of the regular season to sign. Tampa Bay could rescind its tender, meaning he would become an unrestricted free agent, which is unlikely because it would receive no compensation. So there is a stalemate.

"Donald is one of my good friends," said quarterback Josh Freeman. "I talked to him the other day. He wants to be here but he feels he has to work it out and do what's best for his family."
Penn's not exactly out of hand in asking for a fair market salary. Sad thing for Penn is, he's not going to get another dime unless or until a new CBA is reached. Joe understands that as well.