Mark Dominik Speaks
April 24th, 2010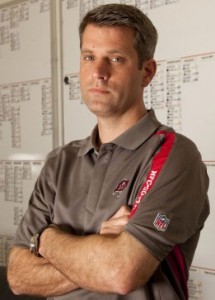 Mark Dominik took a brief moment from his busy duties during the draft to speak with Joe's good friend Justin, of WDAE-AM 620,  this morning to talk about the Bucs' moves.
"I am excited about this draft and we were going into it and that's why we were stocking up on picks. We still have six selections to go."
On picking defensive tackles Gerald McCoy and David Price:
"Those are two talented players. We stayed true to the board. Those two you know they will get after the quarterback. With Roy Miller, we can stay fresh and rotate and stay strong up front and get [pressure] up the middle.
"Price can play nose tackle and he has played some defensive end. We will definitely find a place for that young man.
"The football-love meter is very important for me. How much do they love the game? With Arrelious Benn, he has a tremendous work ethic and is a tremendous young man. The year before, he was a 60-plus catch, 1,000-plus yards guy and may be one of the best runners after the catch in the draft. Mike Williams is very exciting for us. We certainly had a big grade on him. We did a lot of work on him. We are extremely comfortable with him and the fans will like this kid. He is dynamic and he could be that No. 1 receiver.
"So far we're very excited but there's a lot of work to do. We will be wheeling and dealing."