Raheem The Dream And Mark Dominik Are Safe
March 24th, 2010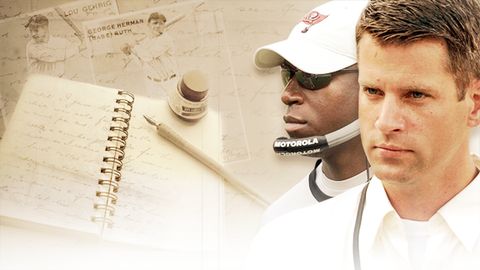 Perhaps lost amid Bucs president Joel Glazer's chat with the Bucs pen and mic club — for some strange reason the Lakeland Ledger's Rick Brown was not allowed access — was that Glazer gave Bucs head coach Raheem the Dream and general manager Mark Dominik votes of confidence.
In short, unless the team implodes, Dominik and Raheem the Dream are safe for the time being, so reports The Mad Twitterer of the St. Petersburg Times.
Despite going 3-13, both could be safe for at least a few more seasons as long as they remain committed and execute a rebuilding plan formulated by the Glazer family.

"They know our thinking," Glazer said. "We've had long talks about this. And really, the general message is: You think long-term, we think long-term. It's plain and simple. You start thinking short-term, we start thinking short term.

"Everyone buys into this plan. I always ask, "Does everyone have the stomach for this because there's a lot you've got to endure early on."
Well, now that that's out of the way, we can all concentrate on the draft, can't we?