Question Marks Rise From Glazer's Address
March 24th, 2010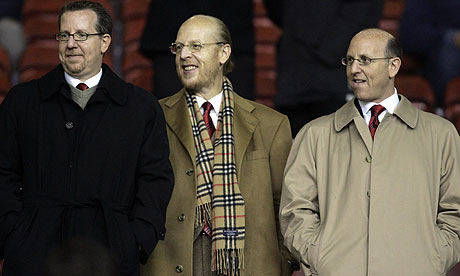 Joe has read the various comments from Joel Glazer, who sat down today for his typical annual chat with select local beat writers at the NFL owners meetings.
Joe inhaled Glazer's words, and now Joe must exhale some questions.
First, Glazer reiterated his stance that the Bucs are building through the draft and he eloquently and admirably detailed to the St. Pete Times how he's willing to take media and public relations lumps to develop players and build a champion, versus jerking around with 9-7 and 8-8 finishes. Here's an excerpt:
"Number two, go back to the beginning of last year. There was a reason we made some changes. We made some changes because we recognized we had aging core group of individuals that was not sustainable. We were headed off a cliff here. That cliff did come, but we said we'd better be proactive to this than reactive in dealing with this. When I say proactive, it meant a plan. Number one, we have to start bringing in some young talent on this team. It's time for some of the older people to move on so some of the younger people get an opportunity to come in, grow, develop and become part of the team. And that has been the plan, that we've got to start building the base with young talent.

"If you look at the teams that have had sustained success, it's the teams that have done it and got it right.

"With that being the plan, letting older veterans go, a void of draft picks from previous years, making a conscious decision to go that route, the way the NFL has been is there are some years your spending is up and a series of years your spending is down. Then hopefully, you go back up. We are in that period right now.

"There are unique opportunities when they do come up, we'll take advantage of them. Kellen Winslow is an example. That's a guy who fit the profile. Younger, talented. You make a trade for a second-round pick. I think that would've cost us a million dollars last year and we turn it into a guy we're paying $7-million to."

Glazer said the team made a conscious decision not to be big players in free agency, which consisted of mostly older players.

"Yes, we could go out and sign a couple of 29- and 30-year-old free agents. But I don't know what that does for us long-term," Glazer said. "That could get us back in that mediocrity of 7-9, 8-8, 9-7 and that cycle we're really not interested in. That's not going to win us a championship. It may feel a little better. I'll go through a lot less criticism, no question about that. But that's fool's gold. We're not in the business of fool's gold. We're in the business of winning championships."
Of course, Joe understands his logic. And Glazer went on to tell Woody Cummings, of The Tampa Tribune, that money is no object in building the Bucs into a winner.
But here's what doesn't jibe for Joe: If it's now all about rebuilding this team through the 2010 draft, then where is the huge investment into the staff that actually scouts and drafts the players. Where is the money?
Surely, Team Glazer could have gone out and hired big time personnel gurus to come and work under Mark Dominik for this draft. They could have built the most impressive draft team and war room in the history of the NFL draft.
That didn't happen.
Dennis Hickey is the college scouting director back for yet another season of subpar service. Mr. Glazer, is that the guy you are going all-in with to rebuild your club? He was in on the annual draft whiffs you spoke of. Is he the best money can buy?
Mark Dominik? That was quite a leap of faith to rebuild your money-is-no-object franchise with a rookie GM last year, who also was part of some the ugly drafts you spoke of. You like Dominik? Great. Give him the checkbook to buy the best draft team in the business. But you didn't do that.
Joe repects that Glazer had the balls to pull the plug on Chucky, gut the team and try to build another near-dynasty.
But if that's the plan, and money is no object, then you invest in the best personnel people in the industry.