Enough Already With The Dungy Analogies
March 24th, 2010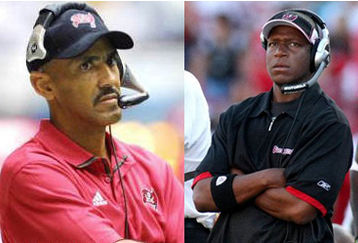 Last Joe checked, the 1997 Buccaneers (year 2 of the Father Dungy era) won 10 games with seven Pro Bowlers, and two of those were All-Pro, Hardy Nickerson and Mike Alstott.
Yet here comes Raheem The Dream again comparing his looming second year with that of the Dungy era, trying to tell the fan base that the Bucs of now are on the same path of the incredible Bucs of days past.
Joe had hoped Raheem The Dream had learned that his incessant comparisons of himself to the Dungy era early last season were foolish and misguided.
No such luck.
Raheem The Dream is at it again, per his comments this morning chronicled by Woody Cummings, Bucs beat writer for The Tampa Tribune.
"Sometimes a team will just decide that they're going to compete and be better than everybody else one year, and it would be no different if these guys did that tomorrow," Morris said of his players.

"But I've been comparing (our situation) to the one we had when Coach (Tony) Dungy first came here where you talk about building (through the draft) and being patient and waiting for the youth to (develop) and get better."

Morris' comments echoed a common refrain. After a year in which Bucs officials hesitated to admit they were rebuilding the franchise, they have made it clear this week they are in the midst of a massive reconstruction project.

That may not sit well with fans who were hoping to see the Bucs make a run for the playoffs in 2010, but Morris has a message for disgruntled fans who may be hesitant to lend their support.

"I would say to them, you've got a chance to come and watch it all develop," Morris said. "You've got a chance to watch (second-year quarterback) Josh Freeman and these young guys around him turn into what they're going to be.

"You've got a chance to watch a team grow and develop, just like we did from 1996-2002, and eventually become that dominant powerhouse that you hopefully get to be."
Just stop it, Rah. Stop it.
You will lose comparing your regime to Dungy's. It's senseless. And it doesn't fit.
You don't have the talent around you. And the game plan is different.
The only thing that's comparable is that '97 team didn't have wide receivers, either.