Donald Penn Is Coming Back
February 26th, 2010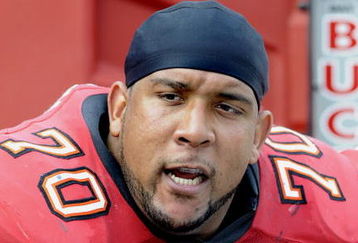 The biggest concern Joe had this offseason is that somehow the Bucs would let arguably their best player, left tackle Donald Penn, slip away.
Not happening.
Good guy Stephen Holder, of the St. Petersburg Times, reports the Bucs have contacted Penn's agent and, in Holder's words, will "place the highest possible restricted free agent tender" on Penn.
That means it's highly unlikely Penn will play elsewhere.
Penn was hoping for a lesser tender that might have enticed another team to present an offer because the draft pick compensation would have been lower. Under that scenario, Arceneaux said, the Bucs could have opted to match or let him walk while receiving something in return.

Instead, "He's being punished two years in a row," Arceneaux said, referring to the fact Penn played under the same agent tender last season, though for slightly less money.

"You're saying he's worth a 1 and a 3 but they won't pay him," Arceneaux added. "So, basically, they agree with me that he's a valuable player."
Hey, Arceneaux, don't gripe at the Bucs. Gripe at the NFLPA. They signed the current labor contract, not Bucs general manager Mark Dominik.
Nice job, Dominik!
Update: The Mad Twitterer claims (via his Twitter feed of course) that Jeremy Trueblood received a second round tender.
Update II: Holder reports, again via Twitter, the Bucs have slapped linebacker Barrett Ruud with highest possible tender. Joe believes somewhere, his good friend Justin Pawlowski is celebrating this news with a cold Caybrew.