Joe Barry Never Heard Of Derek Dooley
January 22nd, 2010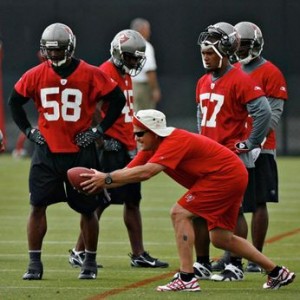 Roughly a week ago, Bucs linebackers coach Joe Barry and the vast majority of Tennessee Volunteers fans would likely have the same answer if someone asked if they knew Derek Dooley:
"Who the hell is Derek Dooley?"
Much to the angst of self-appointed moralists and college football knownothings like Peter King (hey Peter, did you not crucify Pete Carroll for "leaving [USC] in a lurch" because your daughter works in the Seahawks' front office? And why spare Skip Holtz the rod since he did nothing worse than Lane Kiffin? Sure smells like you have an ax to grind with your barrage at Kiffin. What, Monte spit in your soup at Bucs training camp once?) college football moves quick, especially this time of the year.
So when Dooley, the son of legendary former Georgia coach Vince Dooley) was hired from second-rung Louisiana Tech to take over Tennessee, most football people had to scramble to Google to figure out who the virtually unknown Dooley was.
Barry was no different. He tells the Mad Twitterer that he didn't know anything about Dooley until he got a phone call from him.
Linebackers coach Joe Barry is a candidate to replace Monte Kiffin as the Vols' defensive coordinator. Barry was contacted by Derek Dooley on Saturday, the same day he was named Tennessee's new coach.

"I really didn't know Coach Dooley from the man in the moon until he called," Barry, 39, said. "But he said he really liked what Monte did on defense … and wanted to continue it. He said through all his research, my name was the one that kept coming up."
Joe has learned that Barry last spoke with Dooley as recently as Thursday. Joe reached out to his contacts in Knoxville and learned that Dooley spent Thursday and Friday in Florida recruiting so it's possible the two either had a meeting in person, or will.
Joe also learned from one of his Knoxville sources — but cannot confirm this tidbit — that Pete Carroll was talking with Barry about coming to Seattle.