Bull Rush: Hovan's Viable, But Not At Nose Tackle
January 27th, 2010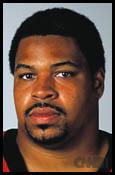 By STEVE WHITE
JoeBucsFan.com analyst
Steve White spent every season of the Tony Dungy era playing defensive end for the Bucs. He's spent countless hours in the film room with the likes of Warren Sapp, Rod Marinelli and more. Joe is humbled to have White, also a published
author
and
blogger
, as part of the JoeBucsFan.com team. Below is White's weekly Bull Rush column that breaks down all things defense. It's simply a can't-miss read for the hardcore Bucs fan.
With the 2009 season over, White is profiling every Bucs defensive lineman and breaking down their strengths and weaknesses, as well as how they may fit in in next season.
Today he looks at Chris Hovan.
Strengths
Hovan's biggest strengths are toughness and tenacity. Since becoming a Buccaneer he hasn't missed a start in five years, a major feat for a defensive tackle. Every single play you see that he is giving you everything he's got. He also is very good with his hands and escaping blocks. He transitions well on play-action pass, and he is still physical enough to bull rush a guy back into the quarterback. He also is a wiley veteran that recognizes blocking schemes well.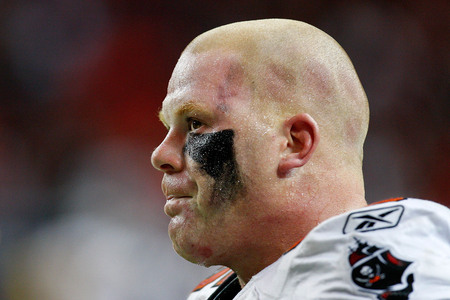 Weaknesses
Lets face it, age catches up with us all. In Hovan's case, he probably has lost some of his quickness in getting off of the ball. He also was poorly suited to Jim Bates' two gap scheme, as he has never been one of those really big defensive tackles that just took up space and was hard to move with a double team. I am not sure if he was worn down from trying to play in that scheme the first 10 games of the season, but it was clear that his ability to get off the ball at the end of the season was not what we are used to seeing from him in years past. His 33 tackles were also the fewest he's had for a season since becoming a Buccaneer.
The Future
It's my opinion that if Hovan is to be a part of this team next year, his best option is to slim down to try to regain his quickness off the ball and vie for the undertackle position. I don't believe that he is going to be a viable nosetackle at his age and his size, and I think he still has enough in the tank to at least get some good push from the 3-technique, where he will see more one-on-one opportunities. It's pretty obvious at this point that the Bucs are going to draft a defensive tackle high in the draft. And with the progression of this year's rookie defensive tackle, Roy Miller, that will likely create a youth push up front.
Still, I think there is a role for Hovan to play on this team as a mentor for these young guys. Not only could he be a help on the field but also in the locker room and in the meeting room teaching those guys what it means to be a professional and how to take their craft seriously. Still, there are no guarantees that management will see it that way so I can't be sure that they will bring him back. I guess we will all just have to wait and see what moves are made during free agency and the draft.