Joe's Second Quarter Thoughts
December 27th, 2009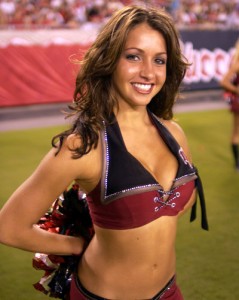 * Bucs are running the ball well. Keep it up. What do you have to lose?
* Dave Moore on the Bucs radio network is ripping the team for "self-destructing" on each possession they have had.
* Geez. First-and-20. Joe smells another interception coming.
* Second-and-17. Joe fears what may happen.
* Well, Joe wasn't expecting a fumble.
* Wonder if that was what Jerry Wunsch calls a "casino blitz?"
* Ruud finally makes a tackle for a loss. First one of the game for the Saints, who previously looked like they were scrimmaging a high school team… you know, like the way Reggie Bush danced through the Bucs defense for a first down.
* Has Brees thrown an incomplete pass yet?
* How many missed tackles were there on the Pierre Thomas gouge for 20+ yards?
* Geez. The only way the Bucs could get Thomas down was by a face mask.
* Um, are the Bucs showing any improvement in this game?
* Hey Ruud, if you were paying attention you had a pick-six.
* Fourth-and-two. Would the Saints go for it? Why not?
* Trying to guess how the Bucs will melt down on this series.
* Well, whaddya know? A Jeremy Trueblood false start. How quaint? Idiot.
* Nice pitch and catch by Freeman to Winslow in traffic.
* That pass should have been intercepted. Freeman was off balance and Winslow was in triple coverage.
* Freeman looked like Big Ben on that scramble. How he didn't get sacked — twice — Joe has no idea.
* OK. So the Bucs have 68 yards to go for a score with 1:45 left in the half. Can they do it? (Quit laughing).
* Dump passes won't get too far.
* Caddy with a first down with a nice move but couldn't get out of bounds. Not real smart.
* Winslow with the first down and out of bounds. That's the way to do it Josh.
* OMG! Not just a Michael Clayton sighting but a catch and damned near broke it for a score. Antonio Bryant with a first down and a penalty for good measure. Bucs looking very sharp. Can they get it in the end zone in 18 seconds?
* That was a good call going for Stovall in the end zone. Just good defense by the Saints.
* Gene Deckerhoff begging for no interception.
* Good play by Caddy on that fumbled snap. This should be a chip shot field goal… then again, nothing is a chip shot all year for Bucs place kickers.
* Bucs avoid a shutout with a field goal.
* Raheem the Dream at halftime said the defense has to slow down the Saints. Gee, ya think?