Joe's First Quarter Thoughts
December 27th, 2009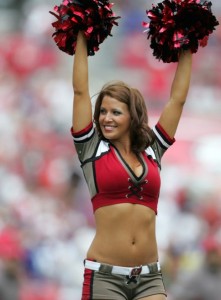 * Things Joe (thankfully) misses when listening to the Bucs radio network: godawful, incessant Geico and Progressive commercials (with all the millions of dollars these companies spend on ads, cannot they find an advertising agency to come up with decent commercials?), that douchebag "Mike" on those Ford commercials (who the hell is "Mike?") and that asswipe half-assed comedian who eats toothpicks who narrates those Ford commercials. Joe drives a Ford truck but those ads are enough to make Joe think about buying a riceburner when he needs another vehicle.
* Keep running the ball. This will not be the last time Joe types this. Run!
* Faine was a roadgrader on that five-yard game by Cadillac.
* Nice call by Greg Olson with the pitch to Caddy. Very nice. Now keep running!
* Very good throw by Freeman to Antonio Bryant. Very nice. So far, so good.
* Saints seemed like they knew that run play by Cadillac was coming. Half the defense was firing to that hole.
* Damn, a decent throw by Freeman and Bryant had an easy first down. Dude had all sorts of blockers in front of him.
* Illegal shift does not cost the Bucs a first down as Winslow was short, though it was a good play.
* Damn. Freeman rolls left and had Winslow wide open but Freeman must have been trying to throw the ball in the Mississippi River.
* That reverse to start the Saints first series didn't catch the Bucs off guard, did it?
* Early going and the Saints are carving up the Bucs on the ground.
* When the Saints are getting roughly eight yards a carry, this will make for a long day for the Bucs. Of course, if this continues, Joe can imagine the hillbilly with a thesaurus Jack Harris bragging how the Bucs gave the Saints all they could handle.
* The Saints early on look every bit the best team in the NFC.
* Is Jim Bates in New Orleans?
* Dave Moore on the Bucs radio network was very critical of the Bucs defense on the Saints first drive. "I'm fearful of what's still to come."
* Love the play-action pass to Earnest Graham and then how he ran over a Saints defender.
* Caddy is having a good day. Nice gain.
* Offensive line is having a nice day.
* Is Joe seeing things? He thought he saw the King of Turds throw a block.
* Damnit! The Bucs were running very well. Why in the world is Greg Olson bailing on the run???
* Freeman has a habit of having balls sail on him. Is this a continuation of why he had a poor completion percentage in college?
* Quote from a Twitter post from AOL Fanhouse writer Nancy Gay, "Josh Freeman makes one HORRIBLE play for every 3 good ones."
* Barrett Ruud gets penetration but no tackle.
* Sabby Piscitelli with an open field tackle. That's refreshing.
* Ronde Barber got run over on that play action pass.
* Wow. Robert Meachem wasn't open was he? Touchdown Saints. Blowout alert.
* Holy spit. Mo Stovall with a monster play down the right sideline to end what has been a brutal first quarter. How will Jack Harris spin that?