Are Raheem and Dominik On Thin Ice?
November 25th, 2009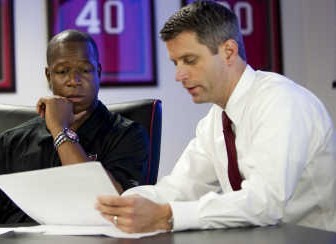 In the wee hours of Tuesday morning, several hours before the vast majority of the local MSM typed or spoke one word about the Bucs defrocking defensive coordinator Jim Bates, Joe speculated the move may have been a desperation stunt by either general manager Mark Domink and/or coach Raheem the Dream to secure their own positions with the team.
That's not to suggest Bates wasn't worthy of being nuetered.
Anwar Richardson of the Tampa Tribune, twittering on the TBO.com's Bucs Twitter account, is of the mind that canning Bates may have in fact sealed perhaps both Dominik and Raheem the Dream's fate with the Bucs.
You got to wonder if Raheem Morris and Mark Dominik can keep their jobs after this season. Too many bad decisions from both.
Richardson has speculated for some weeks that it would be difficult for the Bucs to retain either Dominik or Raheem the Dream — or both — if the Bucs only won one game.
Joe is convinced finances play a large part in this. Joe believes, for several reasons, Raheem the Dream is safe (potentially until a labor agreement is set between the NFL and the NFLPA) and that Dominik will be given more rope than Raheem the Dream.