Josh Johnson Stopped Running
October 25th, 2009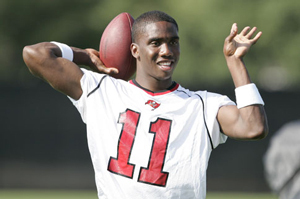 Tom Brady runs like Josh Johnson.
Today, Brady had one rush for five yards against the Bucs. And the formerly scrambling Johnson turned in the same stat line.
Joe wonders who threatened to punish Johnson if he kept scrambling for yards.
It sure seemed to Joe that Johnson had numerous opportunities to run the ball and make a play — plays he would have made in his previous starts. But today he did none of that. Almost like he had no interest — or was thinking too much about not running.
So instead Bucs fans got a look at Johnson trying to play like Tom Brady. The result was a QB who looked more comfortable behind Sean Mahan in the face of Philadelphia's endless blitzes.
Johnson finished 9-for-26 for 156 yards, with one touchdown and three interceptions. The kid looked down on himself. Hardly the fired up leader he tried to be in his first couple of games.
Raheem the Dream was right. Johnson is Josh Freeman's career backup.