Cheap Shot Artist Dante Wesley Blames Peanut
October 20th, 2009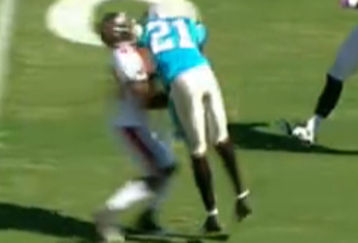 Of course Joe knew that cheap shot artist Dante Wesley would somehow blame someone else for his assault Sunday on Bucs return specialist Clifton Smith.
But Joe never guessed this Wesley would have the unmitigated gall to suggest the hit was Smith's fault.
That is exactly what dirty back-up defensive back Wesley is claiming, reports David Scott of the Charlotte Observer.
"He never fair-(caught) the ball, so I was just trying to play," said Wesley. "It's not like I tried to deliberately hurt anybody. That's not even me. It just so happened that I hit him."
Wesley even had the nerve to suggest a number of Bucs players should have been suspended by NFL warden commissioner Roger Goodell. Monday, Wesley was suspended for a game.
"How could I be the only one being ejected (just) because I tried to make a play?" he said. "They came toward me. I didn't go in their face and try to say something aggressive toward them. When the other team came toward me like that, I felt like the ref could've looked at the situation a lot differently."
Can you imagine? This is like sticking up a liquor store and popping the clerk and then blaming the poor guy for the cops barging in.