Win Unbelievable Prizes From Lee Roy Selmon's
September 10th, 2009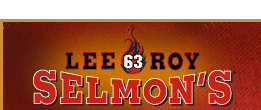 Joe loves Lee Roy Selmon's.
Great environment. Stellar food. High-end TVs. And here's another mention for the truly great, inexpensive menu. Joe can often be found closing the St. Petersburg location.
Lee Roy Selmon's president Greg Lynn will make the rounds today on local sports radio touting the new free Club 63 Pick'em game on Selmon's Web site. Fans sign-up there to pick college and NFL winners and can win trips to England to see the Bucs, the BCS championship game and more.
And just for playing you get free wings and a Bud draft. Nice.
Simply stated, they get it over at Selmon's. Join Club 63 Pick'em today.