Pondering A Cadillac Williams Trade
September 21st, 2009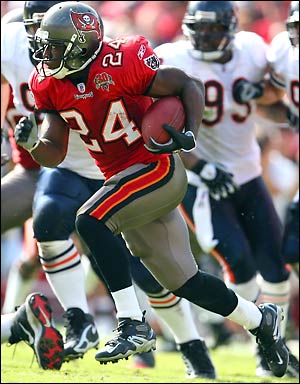 Joe has to wonder whether the rebuilding Bucs, if they continue to prove they are a below average football team, should look to trade 27-year-old Cadillac Williams immediately for a draft pick.
If Williams keeps playing hard and healthy, there might be a team in need of a back in midseason that would part with a fourth or fifth-round pick.
As painful as it sounds for the many, many fans of Cadillac, he is a free agent after this season. And it's highly unlikely the Bucs would open their wallets to pay him assuming he has a good 2009, as the Bucs have Earnest Graham and Derrick Ward signed for 2010.
Given Cadillac's age (for a running back) and injury history (especially for a running back), it might be a smart move to unload him while his value is high and his knees are in one piece.