Joe's First Quarter Thoughts
September 13th, 2009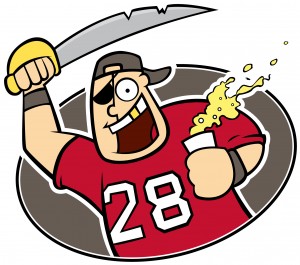 * On the early catch by Roy Williams, Aqib Talib had good coverage.
* Great sack by Ronde Barber. Looks like Jim Bates will be blitzing today.
* Thank God Raheem the Dream came to his senses by putting Jermaine Phillips back at safety.
* Nice job of the Bucs defense to man up and stop Dallass when it seemed the Cowgirls are on their way to march to a touchdown on the opening drive.
* Someone needs to block Keith Brooking.
* Cadillac is back and works over that noted tackler from South Florida.
* K2 shows up! Raheem the Dream has been hiding him in preseason.
* Now the King of Turds shows up. Seems the Bucs might be working the tight ends today.
* Um, the Verizon Red Zone???
* Cadillac is running violent.
* First third down for the Bucs comes inside the red zone. That's a good sign.
* Dave Moore on the Bucs radio network took the Bucs to task for the illegal motion penalty claiming that killed both the momentum the Bucs had built up as well as killed the drive. Hard to argue.
* Moore also said Nugent's kick was low which allowed Dallass to block the field goal attempt.
* Moore still harping on the momentum swing after Felix Jones' first down run.
* Nice job of Ruud to shed a block and wipe out that Wildcat run. Too bad there was a three-yard gain.
* Phillips is having a nice game despite fooling around with that idiotic idea of him playing linebacker.
* Thank you Tony Romo for throwing behind your receiver. Today, Joe will try to forget you went to Joe's alma mater.
* Moore just said the way Cadillac is running Raheem the Dream should forget his planned 2-2-1 rotation. Instead, Moore said the Bucs should ride the Cadillac.
* Moore might be right with Cadillac pounding the ball up the middle like he is.