Joe's Second Quarter Thoughts
September 13th, 2009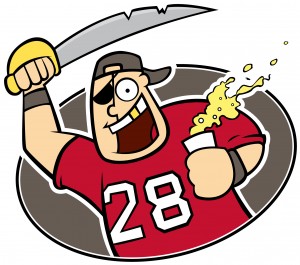 * Nice to see the running game chewing up chunks of yards each run.
* Dave Moore is impressed with how fluid the Bucs offense looks given the fact Antonio Bryant and Michael Clayton have seen limited work with the first team offense.
* Geez. Not a knee injury to Cadillac… again!
* Mean Gene Deckerhoff with a funny: "I can tell Wade Phillips had a good breakfast." Zing!
* Way to go Cadillac! Joe is beyond relieved that Cadillac didn't injure his knee on that long run. Whew!
* Bucs got away with a face mask by Sabby.
* Old man Barber is playing young at heart. Maybe we were all wrong about Barber not being able to play in Jim Bates' defense.
* Where would have the Bucs been last year or so far this year without Antonio Bryant?
* Moore thinks the way Greg Olson is calling plays that Dallass is already getting worn out.
* One of the drawbacks with Leftwich is his inability to throw short in the flat. That was evident when Leftwich missed a wide open Derrick Ward for what would have been a first down.
* After Phillips wrestling Marion Barber down, Joe cannot say how happy he is that Phillips is not wasting himself at linebacker.
* Cheap ass call on the roughing the punter. Still, no need to take that chance with Dallass kicking from so deep in their territory.
* Geno Hayes might need an alarm clock but he sure answers the bell on defense.
* The Bucs corners are so far playing outstanding.
* Jason Witten on a linebacker is an M&Mer.
* Huge personal foul by Flozell Adams.
* Geno Hayes is playing as if he's on the Doak Campbell turf.
* Dumb move by Clifton Smith. That punt was in the end zone. Yeah, he got the ball out to the 15 but when a team is in the two-minute drill, five yards can mean the difference between a missed field goal and three points. So far the Bucs are making stupid decisions on special teams.
* Moore just said the Bucs should not play conservative with 85 yards to go and two minutes.
* Waste of a drive by the Bucs there. Moore thought the Bucs should have tried to run and if successful, then bring out the three-wide sets. If the runs don't work, you burn the clock which hurts Dallass. Now the Cowgirls have a short field for a field goal to regain the lead.
* Dumbass Gaines Adams. Nothing like helping Dallass get closer to a field goal attempt.
* Terrible mistackle by Elbert Mack. You might get away with arm tackles at Troy but not in the NFL.
* Moore is taking the Bucs to task on their possession just before the Cowboys touchdown for getting away from what they were doing well, enabling Dallass to score.
* Bomb to Michael Clayton. Aside from the fact it's was a fantastic catch, this is why Raheem the Dream wanted Leftwich at quarterback and not Luke McCown.
* Moore is claiming the reason the Bucs nearly got a delay of game penalty on the last-second field goal attempt was due to a lack of playing together.
* Nice job Mike Nugent.
* Quick glance at the numbers shows, shockingly, the Bucs offense is outshining Dallass.