Holding Breath On Faine's Injury
September 14th, 2009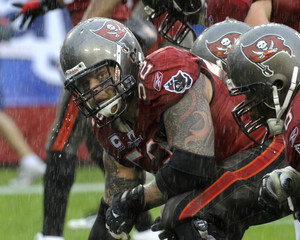 For all the spin likely to come out of Raheem The Dream's news conference this afternoon, Joe is most interested in some facts: injury updates to Jeff Faine and Jeremy Zuttah.
Both missed snaps in Sunday's game.
The Mad Twitter, aka Rick Stroud of the St. Pete Times, tweeted that the Bucs are "concerned" about a triceps injury suffered by Faine, who will have an MRI today.
Call Joe insensitive, but Arron Sears' friends on the Bucs' offensive line need to call him up today and show him some love and support and make another run at getting him to return to the team.
If Faine and Zuttah miss extended time, the Bucs offensive line, a major bright spot yesterday, is in serious trouble.