Bills Have A Major Injury, Too
September 17th, 2009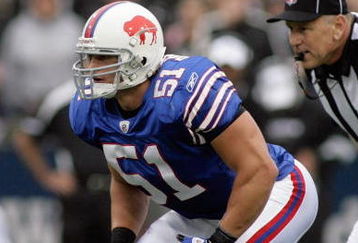 Joe was beyond bummed to learn that center Jeff Faine will be out a few weeks or more. The Bucs offensive line was strong last Sunday.
But the Bucs aren't the only team that will have a major void in the middle. The Bucs next opponent, the Buffalo Bills, lost one of the rising stars in the league when middle linebacker Paul Posluszny broke his arm (again) in the loss to New England and will likely be out six weeks, writes Mark Gaughan of the Buffalo News.
The Bills acknowledge the big-time talent of Posluszny, the 34th pick in the 2007 draft, will be missed.

"It's going to be a major loss," linebacker Kawika Mitchell said. "He's a captain of our football team. He's been playing extremely well. People are going to have to step up to take his place, make sure the communication is good, because him being the mike linebacker, everything comes through him. It'll be a lot of weight on Marcus Buggs' shoulders. But me and Keith [Ellison] and whoever else is in there will help him out. I think he'll be fine."

"When you lose your captain and the guy who's the quarterback of your defense, it's definitely a blow to your club," Fewell said.
What Faine missing means to the Bucs, Posluszny means to the Bills. Hopefully, Posluszny's injury cancels out Faine's injury this week for the Bucs.