Stovall Scolded
August 20th, 2009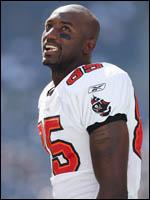 Great special teams player. Not much of a wide receiver.
That's long been the scouting report on Maurice Stovall. And it doesn't look like much has changed.
Tom Balog, Bucs beat writer for the Sarasota Herald-Tribune, takes a look at Stovall's struggles and the competition for the No. 3 receiver spot.
On another play, Stovall ran a go route instead of a hitch (stop) route, which resulted in quarterback Luke McCown throwing an incompletion to the spot where Stovall should have been.

"He didn't do what he was supposed to do," said Buccaneers wide receivers coach Richard Mann. "We're looking for consistency. That could have very easily been a pick and he knows it. That can't happen."

Stovall, a 6-foot-5, 220-pound athlete who is a workout addict, needs to have a big game against the Jacksonville Jaguars on Saturday to regain the confidence of the coaching staff.
Joe hope Stovall can turn it around quickly. But how much would one good game against Jacksonville really say about him?
Joe is eager to see what wide receiver Kelly Campbell has to offer on the field. The Bucs could benefit from a real speedster in the lineup.