Aqib Talib Arrested
August 20th, 2009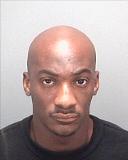 Updated 10:45 a.m. Bucs cornerback Aqib Talib was arrested by Florida Highway Patrol and booked into Pinellas County Jail at 12:47 a.m. and released on $300 bond about 6 a.m.
According to jail records, Talib was arrested for misdemeanor simple battery and resisting arrest without violence.
Per the St. Pete Times:
An FHP report said Talib hit David Duggan in the right ear and neck with a closed fist. The incident happened at Gandy Boulevard and State Road 93 at 11:10 p.m.

When Officer John Ryan arrived at the scene, Talib was in a taxi cab, the report said. Ryan told Talib three times to get out of the car and Talib was uncooperative.

The report also noted that there was an "indication of alcohol influence."

The Bucs had no immediate comment on the matter.
No word if a helmet was used in the incident.
Joe finds it a bit strange that Ryan had to document there was an "indication of alcohol influence." Talib was in a cab. What's it matter? He was taking a cab! Joe doesn't care if Talib was so drunk he couldn't talk so long as he was in a cab.
The neo-prohibitionists are out of control.
From Joe's experience as a cops reporter, there are little boxes on all arrest affidavits for officers to check if they want to note some additional specualtion or facts from the scene — everything from alcohol use to weather. Now whether those observations, not usually backed by concrete evidence, hold any water in court is another story.
 Talib's "indication of alcohol influence" is probably meaningless to his case. Although warden Roger Goodell may say otherwise.