Morris Starts Them Running
August 1st, 2009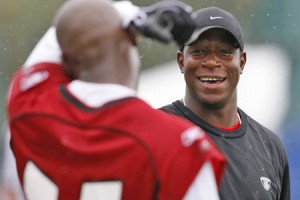 Raheem The Dream got his young team running a little ahead of schedule Friday. Players officially reported for camp, although the opening practice is this morning at One Buc Place.
Backwards Hat, aka Bucs beat writer Rick Brown of the Lakeland Ledger, writes Morris broke from tradition and had the Bucs doing some cardio work late Friday.
Every year, the coach threatens to start training camp with a conditioning run to see which guys have been working out, but it never gets done … until Friday.

Morris, opening his first camp, had the guys do a variety of shuttle runs, 300-yard shuttles, 150-yard shuttles and 60-yard shuttles.
Joe likes The Dream setting the tone for a dig-deep work ethic. No doubt the Bucs will be fit in December. Let's just hope they're not out of the playoff picture by then.